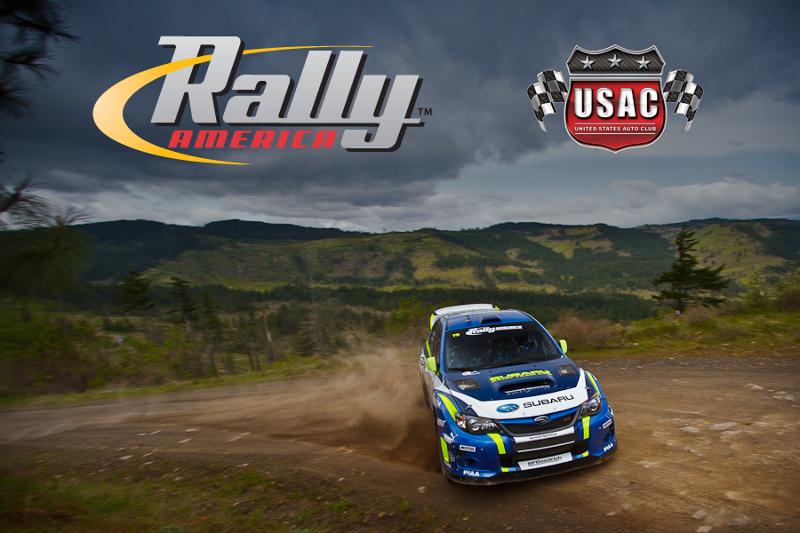 Rally America, Inc. and USAC will partner in 2013 to present the Rally America National Championship, a seven- event series spanning the country between January and October.
The one-year agreement announced today expands USAC's diverse calendar of motorsports entities which has included various sanctioning partnerships.
Since its inception in 2004 Rally America has been considered the premiere rally sanctioning body in the United States.
For the 2013 season Rally America members will hold both a Rally America license and a USAC membership receiving many new benefits of inclusion in one of America's oldest racing clubs. USAC debuted in 1956 and in its 57 seasons of competition it has sanctioned nearly every form of motorsports imaginable.
The 1956 USAC calendar alone reflected its diversity, including the Mobilgas Economy Run, The Great American Mountain Rallye, the Nassau Race Cup and the Sebring 12-hour endurance run. Subsequent off-oval operations included a 1958 mileage rally, numerous years of sanction with the Pikes Peak Hill Climb, seven races comprising the 2000 Grand- Am Championship and International Rally events from 2002-2006.
A member of the Automobile Competition Committee for the United States (ACCUS) and 42-year sanction of the Indianapolis 500 Mile Race, similar USAC associations have included Formula One, MotoGP and most recently the Traxxas TORC Off-Road Championship.
"Obviously we look forward to this partnership in 2013 as we work together with Rally America to produce America's top-level rally championship," says USAC president/CEO Kevin Miller.
"We're excited to be working with Kevin Miller and his team at USAC for the upcoming season," adds Rally America president and owner Bill Fogg. "This is a great opportunity to continue our plans for growing the sport of rally racing in America. USAC has several ways to assist us by opening doors in media, sponsorship and new cross over participation by other USAC members not to mention advising in the area of event promotion. I am certain Rally America and USAC will find many new ways to engage global rally racing fans as the two groups begin working more closely in the coming months."
2013 Rally America Calendar
1. Sno*Drift Rally (Atlanta, MI) January 25 – 26
2. Rally in the 100 Acre Wood (Salem, MO) February 22 – 23
3. Oregon Trail Rally (Portland & The Dalles, OR) May 3 – 5
4. Susquehannock Trail Rally (Wellsboro, PA) May 31 – June 1
5. New England Forest Rally (Newry, ME) July 26 – 27
6. Ojibwe Forests Rally (Detroit Lakes, MN) August 23 – 24
7. Lake Superior Performance Rally (Houghton, MI) October 18 – 19