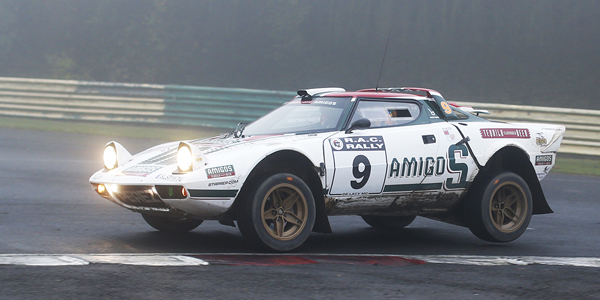 Croft Circuit can confirm that the iconic Roger Albert Clark Rally will be back for a third consecutive year in 2013 when it returns to the North Yorkshire venue as part of its three-day route on Saturday 9 November.
The 'Roger Albert', named after Seventies rallying legend Roger Clark, recreates the famed Lombard RAC Rallies of the Sixties, Seventies and early Eighties, running on classic rallying stages across North Yorkshire, Northumberland, Cumbria and the Borders.
Two-wheel-drive cars only are permitted meaning it's all about some of the sport's legendary makes and models notably Mk1 and Mk2 Ford Escorts, Porsche 911s, Lancia Stratos (pictured), Vauxhall Chevettes, Opel Kadetts, Saab 96s and many more.
For those who recall seeing the likes of Clark, Mikkola, Vatanen, Pond, Alen, Blomqvist, Waldegaard and many others in action on the original events the Roger Albert provides an opportunity to roll back the years and re-live one of rallying's golden eras.
Indeed the event is recognised as one of the best in the world for historic-specification rally cars and 2012's entry list came close to boasting 100 drivers – a number with World Rally Championship experience.
Tickets for Croft's RAC Rally stage will go on sale shortly on the www.croftcircuit.co.uk website at the advance price of just £8 per adult. As ever, admission for accompanied children aged 15 and under will be FREE. The public can also call the main circuit office on 01325 721815 for further details plus visit the RAC Rally website www.rogeralbertclarkrally.org.
Croft's race track has been part of the RAC's route for the past two years with two stages – each a double run of the circuit – in quick succession. More details of this year's format will emerge in the coming months.
Croft Circuit manager Tracey Morley commented: "We are very privileged to be welcoming the Roger Albert back in 2013. It is one of Britain's biggest and best attended national motor sport events of the year so to be a part of it again is a real feather in our cap.
"The cars mean so much to so many people. The quality of teams and drivers entering the event now is so high it is just like travelling back in time to the Seventies and Eighties – as proven by the incredibly high number of spectators who turned out for last November's event."
Colin Hepenstall, RAC Rally Manager, added: "We are delighted to be returning to Croft – it is has become an essential part of our event. Access is made easy for the public and the fact it's a permanent motor sport venue ensures excellent viewing and facilities.
"Our competing crews love it as well – the circuit is genuinely enthusiastic about bringing top-class motor sport to the North East, plus it poses a different challenge to the more traditional forest stages which is in keeping with the spirit of the original RACs. Its location also makes for an ideal stop-off and service area for the teams as we venture out of the North Yorkshire forests up towards Northumberland and across to Cumbria on the Saturday evening."
Subscribe by Email
Sign up to receive our newsletter by email.
Like us on Facebook