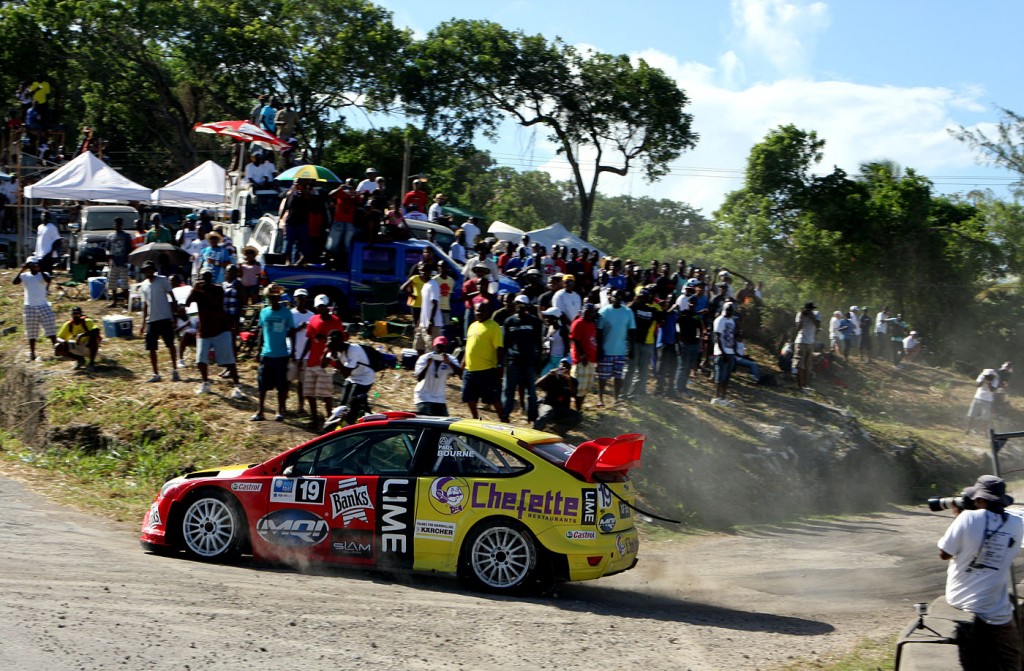 Sol Rally Barbados 2013 is already more than half-way to its cap of 100 starters, with continued strong interest from Ireland helping to drive the number of International entries posted on-line to more than 30 a full two months earlier than last year.
Since registration opened last month on the official web site, www.rallybarbados.net, a total of 52 entries has been received, among them eight International crews new to the event.
Leading the Irish newcomers heading to the Caribbean's biggest annual motor sport international are Enda McCormack and Tommy Doyle, who will drive Ford Escort MkII and Renault Clio R3 respectively, sponsored by McCormack Contracting Inc. The Escort has been built new for Sol RB13 by Philip Case Rallysport in County Donegal in the north-west of Ireland, where the Clio is currently undergoing a ground-up rebuild.
Driving a Mitsubishi Lancer Evo IX, McCormack won Class 15 for modified four-wheel-drive cars on his first attempt at the Dunlop Irish National Tarmac Rally in 2012, with only one non-finish. His advantage at year-end was one of the smallest margins of victory in the multi-class series, defeating former Irish Group N Champion Roy White in his 2.3-litre MG ZR S2000 by just four points.
Most of his rallying has been on the other side of the Atlantic, however, as he is based in New York. He has been a regular podium finisher in the United States Rally Championship since 2007, also in an Evo, and finished third in the 2010 USRC all-wheel-drive class; his best result was second in that year's New York Winter Rally, with Doyle as co-driver.
In Barbados, which will be only McCormack's second major rally in a two-wheel-drive car, his co-driver will be Donegal's Kieran McElhinney. The Escort, which enjoyed a successful first test in early November, is powered by a 292-horsepower, 2-litre Opel JRE racing engine, mated to a six-speed sequential gearbox.
Doyle comes from the same Irish town as McCormack, Longford, and they are close family friends. As well as occasionally co-driving for McCormack, Doyle has also driven the Evo – he won Rally New York USA in 2011 by 23 seconds after around 100 stage miles in the Catskill Mountains, and finished fourth in this year's Circuit of Munster Stages in Ireland; on both occasions, his co-driver was Liam Moynihan from Millstreet, County Cork, who will be travelling with him to Barbados.
In recent years, Doyle has earned a reputation as something of a giant-killer, in front-wheel-drive Renault Clio and Citroen DS3 R3 cars, claiming regular top 10 finishes on tarmac, often with a string of four-wheel-drive cars in his wake. Despite only one outing in the 2011 British Rally Championship, he joined Desi Henry, Siim Plangi, Osian Pryce, Peter Taylor and eventual winner Jukka Korhonen in the year-end Pirelli UK Star Driver shoot-out, at which the distinguished panel of judges included former British Champions Gwyndaf Evans and Jimmy McRae.
Doyle's Clio was previously driven by Tom Walster, then Peter Taylor, in the British Rally Championship and the West Euro Cup. In readiness for its trip to the Caribbean island's premier event, it will undergo a ground-up rebuild, starting in the first week of January; just two weeks ago, it had been stripped, blasted and was on its way to the paint shop for a complete make-over.