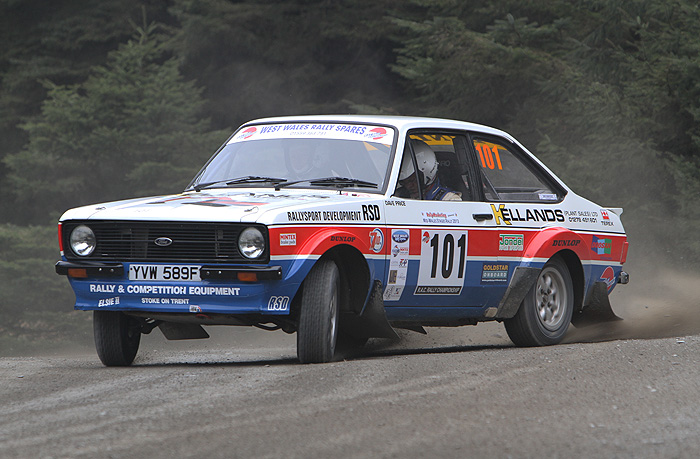 Nick Elliott and Dave Price were the big winners on the opening round of the West Wales Rally Spares R.A.C. Rally Championship, today's Rally Marketing Mid-Wales Stages (Sunday 3 March).
The Cheltenham crew took victory by just 3.7s after a glorious battle with Marty McCormack and Phil Clarke, while Ryan Barrett and Barry Ferris made it two cars from Northern Ireland in the top three.
With records crowds of spectators packing into the stages and a real buzz around the opening event of the R.A.C. Rally Championship season, it could not have been a better start to the championship. A fabulous atmosphere among the crews and fierce competition on some of the finest gravel stages in the country was a truly winning combination.
Series winners were:
Series 1: John Everard/Mark Sharpley (Alfa Romeo Junior GT)
Series 2: Chris Browne/Ali Cornwell-Browne (Ford Escort Mk1)
Series 3: Nick Elliott/Dave Price (Ford Escort Mk2)
Series 4: Nev Jones/Chris Davies (Ford Escort Mk2)
Series 5: Simon Wallis/Graham Wride (BMW 325)
Series 7: Dylan Davies/Llion Williams (Ford Escort Mk1)
Championship manager Colin Heppenstall was thrilled with the opening event…
"The Mid Wales Stages has been a perfect start to the championship," he said. "There has been great competition, fabulous stages and lots of very happy competitors! We'd like to say a very big thank you to Chris Tomley and the team at Newtown and District AC for all their hard work."
Subscribe by Email
Sign up to receive our newsletter by email.
Like us on Facebook