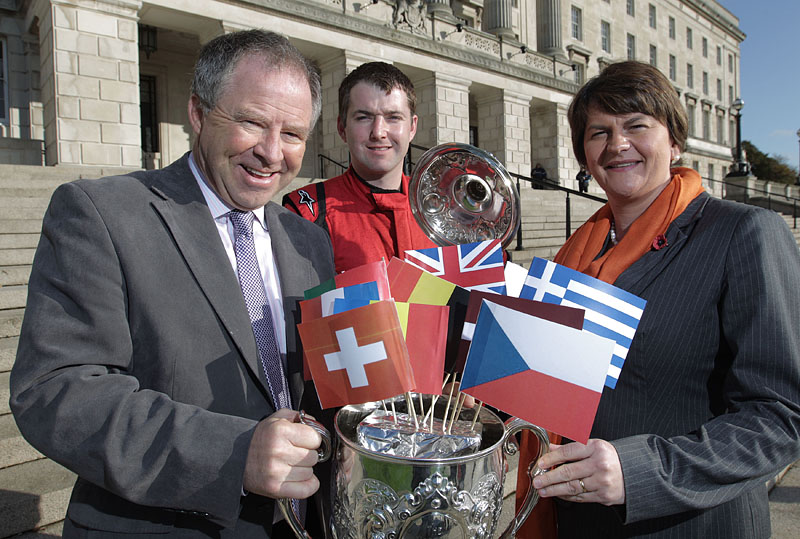 Top motorsport event the Circuit of Ireland is back significantly enhanced for 2014 with the announcement today that the iconic rally is one of 12 set to feature in next year's revamped FIA European Rally Championship calendar.
Scheduled to take place during its traditional Easter Week-end slot on 18-19 April, the Circuit of Ireland Rally is being billed as one of the 2014 Championship's 'flagship events'. Subject to final approval by the FIA, motorsport's world governing body, it makes its return to the ERC roster after a lengthy absence.
The Circuit of Ireland will be the only UK and Ireland based round in the Championship. Route details will be outlined early next year but it's anticipated that the action packed two-day rally will include some of Northern Ireland's top tourism landmarks in counties Down and Antrim as well as locations in Belfast.
Broadcast by Eurosport, the 2014 Circuit of Ireland Rally is expected to attract in excess of 10 million viewers globally as well as thousands of spectators and team officials who will accompany the international competitors.
Circuit of Ireland event director Bobby Willis said he was thrilled that the locally organised rally will be back in business and at the premium end of the international rally arena for 2014:
"The management team as well as our 700 plus volunteers are extremely proud and excited to be part of a new look ERC programme. The world's second oldest rally the Circuit of Ireland Rally has always attracted high profile competitors and our inclusion in the 2014 ERC programme will help draw some of the best in the sport to Northern Ireland.
Alongside other home grown sporting events, as well as the Giro d'Italia, the Circuit of Ireland is set to be an important economic driver for Northern Ireland in 2014. Indeed, it's estimated that the event will generate well over £1m for the local economy as well as attracting many first time visitors to the region."
Enterprise, Trade and Investment Minister Arlene Foster said: "It is a wonderful coup for the 'Circuit of Ireland 2014' to be selected as a leg of the 2014 European Rally Championship.
"There is huge interest in this new series and the event will help raise the profile of Northern Ireland to TV audiences across Europe. Tourism Ireland will also be pulling out all the stops to capitalise on the opportunities that the rally will create.
"Through a well established working relationship with Eurosport, Tourism Ireland has ensured several stages of the event can be seen across Europe by Eurosport's 125 million subscribers. As well as being able to watch high profile drivers battling it out, viewers will see the spectacular landscapes and beautiful scenery that Northern Ireland has to offer."
As an integral part of the European Rally Championship the 2014 Circuit of Ireland expects to sign up a who's who of international drivers and co-drivers. Top competitors being linked to ERC campaigns include Bryan Bouffier from France, Sepp Wiegand from Germany, Andreas Aigner from Austria as well as Waterford driver Craig Breen and Robert Barrable from Swords. Local drivers also likely to participate include Fermanagh based Alastair Fisher and former British Junior Rally Champion Marty McCormack from Draperstown.