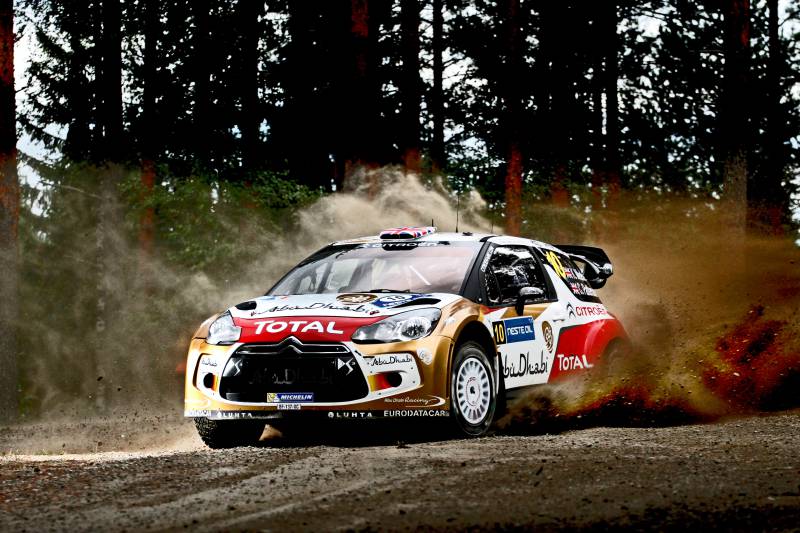 After strong performances in their first outing in the DS3 WRC in Finland, Kris Meeke and Chris Patterson have been chosen to team up with Mikko Hirvonen and Jarmo Lehtinen in the Citroën Total Abu Dhabi World Rally Team for Rally Australia in Coffs Harbour on 13-15 September.
The fastest rally on the calendar proved tricky for Dani Sordo, who was not able to find the right rhythm to make it into the leading places. Sorely lacking in confidence on gravel, the Spanish driver has agreed with Citroën Racing that he will sit out the next round in order to try and take a step back and find some form on the surface away from pressure.
Kris Meeke put in a much-praised performance in Finland in his first outing in the DS3 WRC, despite crashing off at the end of the rally. The Irish driver, who has come through our promotional formulas and is responsible for the development of our client-competition cars, was the natural choice to race for Citroën Total Abu Dhabi World Rally Team alongside Mikko Hirvonen in the tenth round of the World Championship.
"We have to acknowledge that we have had better seasons," concedes Yves Matton, Managing Director of Citroën Racing. "It is difficult to take decisions like this, but sometimes you have to change something to reenergise the team and get back to winning ways. This decision, which was made with Dani, will allow us to work on our difficulties and move in the right direction. Kris showed what he could do in Finland with an excellent performance and high motivation levels. So we instinctively turned to him to take over in Australia."
"We are really very happy that Citroën have put their faith in us again after our performance at Rally Finland," said a delighted Kris Meeke. "For us, this is an incredible opportunity to take part in the rally as part of Citroën Total Abu Dhabi World Rally Team alongside Mikko and Jarmo, and we are determined to give of our best."