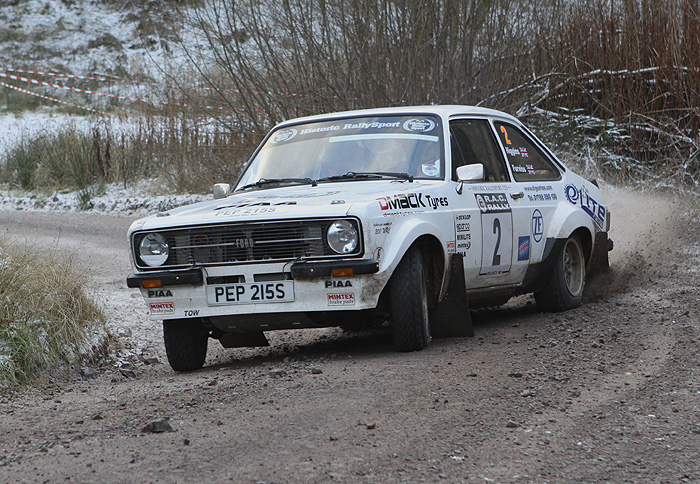 A truly sensational entry has been assembled for the opening round of the West Wales Rally Spares R.A.C Rally Championship, the Red Kite Stages (Sunday 20 January), with the field headed by Julian Reynolds, Mark Higgins and Nick Elliott.
More than 50 registered crews will line up in Llandovery for the first of seven rallies and the quality of historic entry is being described as the best ever seen for a British championship event. The final count shows 29 BDA/BDG engined Escorts in a field that also includes cars from Volvo, BMW, Hillman, Opel, Austin, Alfa Romeo, Sunbeam and Triumph.
Heading the field away will be reigning BHRC champions Julian Reynolds and Patrick Walsh in their Ford Escort Mk2. Reynolds has won the modern section of the Red Kite three times and the historic section twice, but it is still uncertain if he will be there when the rally starts at 9am on Sunday. They are attending the MSA Night of Champions in London on Saturday night and face a race against time to get back to West Wales.
Three-time British Rally Champion Mark Higgins and co-driver Ieuan Thomas are second away in the main field in an Escort Mk2 from Historic Rallysport, with the flying Nick Elliott and Dave Price next up. In a stunning entry, quick Series 3 cars pack out the top 20 in the hands of drivers like Kevin Davies, Will Onions, Thomas Davies, Terry Brown, Rob Smith, Alan Walker and Seamus O'Connell.
New to the historic arena for the event will be Jason Pritchard in a Viking Motorsport Escort Mk2, while Matt Edwards has worked non-stop for the last six weeks to get his Escort Mk2 ready after a first stage retirement on the Roger Albert Clark Rally.
Variety in Series 3 is provided by the Sunbeam Lotus of Guy Anderson and the Triumph TR7 V8 of Peter Jones, while Guy Woodcock heads the Pinto-powered Escorts Mk2s in Series 3. More Escort Mk2s will contest Series 4 for cars running to FIA Appendix K regulations, including those of Barry Jordan and Neville Jones.
Among the Escort Mk1s at the head of Series 2 is the car of Richard Hill, while the Pinto-powered cars include Dick Slaughter, Neal James and Nick Jarvis who will go up against the Opel Kadett of Peter Smith. From the 1600cc ranks comes the rapid Escort Mk1 of Robin Shuttleworth.
At the very front of the rally will be the pre '67 cars in Series 1, with Ian Beveridge/Paul Price first away in their Volvo PV 544. Leading the chase will be Clive King/Bob Ward (Mini Cooper) and John Everard/Mark Sharpley (Alfa Romeo).
A major feature of the new championship are the classes for other pre '87 cars and Series 5 is set to grow in popularity as the season develops. Simon Wallis and Graham Wride lead the way in their BMW 325, while Series 7 caters for all pre '87 cars regardless of specification.
Ben (son of former British champion David) Llewellin will make his rallying debut in a Ford Escort Mk2, and will line up against more Escorts for Mark Spencer, Roger Taylor and Robert Cholmondeley. Expected to join the Series 7 field are the very rapid Matthew Robinson (Escort Mk2) and Dylan Davies (Escort Mk1).
The Red Kite Stages is organised by Amman and District Motor Club. More details are available from www.redkitestages.co.uk
Subscribe by Email
Sign up to receive our newsletter by email.
Like us on Facebook