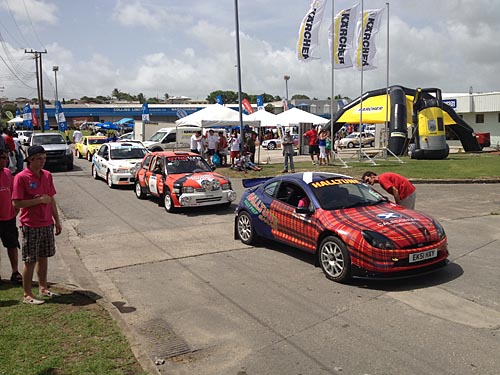 Five repeat visitors who have clocked up more than 40 trips to Barbados over the last 10 years were among the first International competitors to post on-line entries for Sol Rally Barbados 2013 (June 1/2).
Since registration opened last month on the official web site, www.rallybarbados.net, nearly three-quarters of the more than 40 entries already received have come from the wider Caribbean and Europe.
Four-time Scottish National class champion Kenny Hall, a visitor since 2002, was among the first to enter, despite not knowing what he will drive for his 11th onslaught on the island's premier event. His co-driver will be Holland's Fenny Wesselink – it's her eighth visit to Barbados – but the final decision on the car is some weeks away.
Having made alternative entries for either the Opel Corsa in which he was first seen in Barbados or the ex-works Ford Puma S1600 which he has campaigned for the past three years, Hall notes: "We're in the middle of a major rebuild of the Puma. We have the sand-blasting and hole-cutting done as of today, but I need to inspire the guys to get the work done . . . and that is what I'm focussed on right now."
Hall has three times won Modified 5, in the Corsa, in 2004 with Colin Clark as co-driver, then twice with Wesselink: in 2007, 22nd overall also gave them the trophy as the highest-placed crew including a female, and they won M5 again in Sol RB09.
The Puma has been less successful: in Sol RB10, 'Kenny & Fenny' were just a few hundred yards away from another class win, until a wrong slot on the first run of the Shell V-Power SuperSpecial at Simpson Motors dropped them to second in M6. For the past two years, the Puma has retired, so Hall definitely has unfinished business.
Also in a Puma is Andrew Costin-Hurley, on his 10th visit to the Caribbean's biggest annual motor sport international, with co-driver Rob Brook back for his eighth. Driving his self-built rear-wheel-drive Puma, former Indy car and F1 engineer Costin-Hurley won Group B in Rally Barbados in 2007 and '08.
Brook sits in the Puma for the second time – he was co-driver in 2011 – having previously competed in Barbados as co-driver (four times, in four different cars) and driver (once), and also acted as International Steward.
Another competitor to have fulfilled official roles in recent years is Welshman Paul 'Tourist Man' Rees, whose Vauxhall Astra is entered in the Historic class; a co-driver is yet to be named.
This will be his fourth outing as a competitor since 2003, when he finished fourth in M5 in a Vauxhall Corsa. A brief trip as co-driver to Tom Roberts in 2009 ended just a few corners into the first stage, then Rees returned with his recently-completed Astra in 2011, when he finished 34th overall and third in M5.
Between his visits as a competitor, Rees, a respected rally official in the UK and Marshal Liaison for Wales Rally GB, worked with the local organisers, during which trips he met and married island motor sport stalwart Biddy Barber's daughter Ali; the couple now live in England.