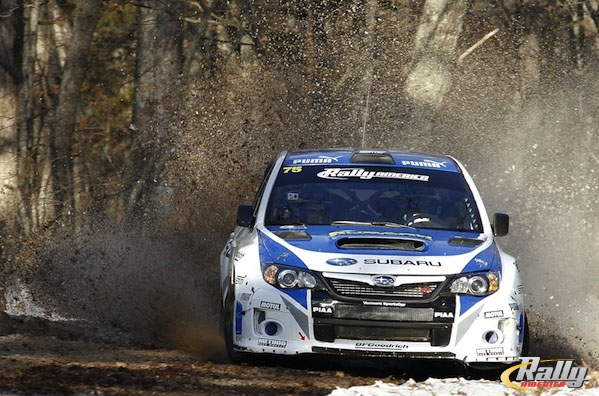 The sudden arrival of winter ice and snow conditions could not prevent Subaru Rally Team USA's David Higgins and Craig Drew from winning the Rally in the 100 Acre Wood held on February 22-23rd in Salem, Missouri. The hard fought victory gave Higgins his first 100 Acre Wood Rally victory in three attempts at one of the more slippery events in recent memory.
On the first day Higgins and Drew fell behind early to Hoonigan Racing's Ken Block and Alex Gelsomino and to Rockstar Energy Drink Rally Team's Antoine L'Estage and Nathalie Richard until a fateful stage 6, the first nighttime stage. Block suffered frontend damage and L'Estage retired from the event with overheating issues that left Higgins with the overall lead.
It was a disappointing withdrawal for L'Estage who hoped to build on his Championship points lead after winning the Michigan based Sno*Drift Rally in late January.
Block rejoined the event at the beginning of the second day using SuperRally rules, which allows a team to reenter with time penalties, only to retire again from the event with an electrical throttle problem on stage 10. Block held a psychological advantage having previously won six 100 Acre Wood Rallys – the most by any Rally America driver.
Higgins then commanded a six minute lead over Joseph Burk and Alex Kihurani in second place and Lauchlin O'Sullivan and Scott Putnam in third place. Higgins won 9 of the last 10 stages of the day towards his overall victory.
"This is one rally we haven't won before and to win it now is a great feeling especially the way things happened," said Higgins, "Our victory appeared not to be close, but giving the difficulty of the rally and the conditions that margin could have disappeared in an instance."
Higgins is the reigning 2012 Rally America National Championship. With this win Higgins assumes the Championship lead on route to defending his title.
Joseph Burke and Alex Kihurani strategically piloted their 2006 Mitsubishi EVO IX to second place for their first Rally in the 100 Acre Wood podium. Burke last competed in September 2012 when he severely rolled his car and had to rebuild in the offseason. The new rally car kept pace with the top of the field even when his car experienced electrical problems.
Lauchlin O'Sullivan and Scott Putnam also put a newly minted Super Production (SP) Class 2008 Subaru WRX STI through the paces and were extremely pleased to not only take third overall, but to win the SP Class. O'Sullivan and Putnam are the 2012 Super Production Champions and returned this season at 100 Acre Wood to defend their title after missing the first event of the year.
"For the maiden voyage of this car it is was pretty much infallible," said O'Sullivan, "I know two of the top guys didn't finish to make this happen, but we will take it. We missed third overall so many times last year that we just wanted to get it this year. It's really cool that we got this."
2013 Sno*Drift Rally SP Class winners, Evan Cline and Jake Blattner, patiently drove a consistent race and overtook David Sterckx and Karen Jankowski on stage 15 to place second in class, and in the process maintained their SP Class points lead. Sterckx lost considerable speed because of turbo boost problems and took the third place spot for their first podium this season.
Cline and Blattner also added both the Trespassers Wil and 100 Acre Wood Regional Rally victories to their list, and became the top all-wheel-drive regional winner for the Honey Jar Challenge prize fund.
Scion Racing Rally xD's Andrew Comrie-Picard and Jeremy Wimpey took the Two-Wheel Drive (2WD) Class victory, their second consecutive class win, in a tight battle with a contingent of Ford Fiestas. Comrie-Picard was locked in a battle with Dillon Van Way and Andrew Edwards until stage 11 when Van Way crashed and gave up his second place position to fellow Ford Fiesta drivers, Edward McNelly and Ole Holter.
"The event was nearl perfect except for a bent rear beam from a rock I hit," added Comrie-Picard," I came into service a bit sideways. The team came through for me. We are really crushing it this year and happy with the results."
Long-time rally racers Tim O'Neil and Travis Hanson completed the 2WD podium. O'Neil is the founder of the Team O'Neil Rally School in Dalton, NH which trained many of the drivers competing in Rally America competition.
In Rally America's Manufacturers' National Championship Subaru tied Mitsubishi in the overall category. Subaru also adds an additional Subaru victory to their Super Production Class manufacturer's lead. Scion adds another 2WD victory in their quest to dominate the 2WD manufacturer standings, and Honda also their manufacturer win streak in the B-Spec category at the 100 Acre Wood Rally.
The Rally in the 100 Acre Wood is the second round of the Rally America National Championship. The next round takes place at the Oregon Trail Rally in Portland, OR on May 3-5th. More information at www.rally-america.com