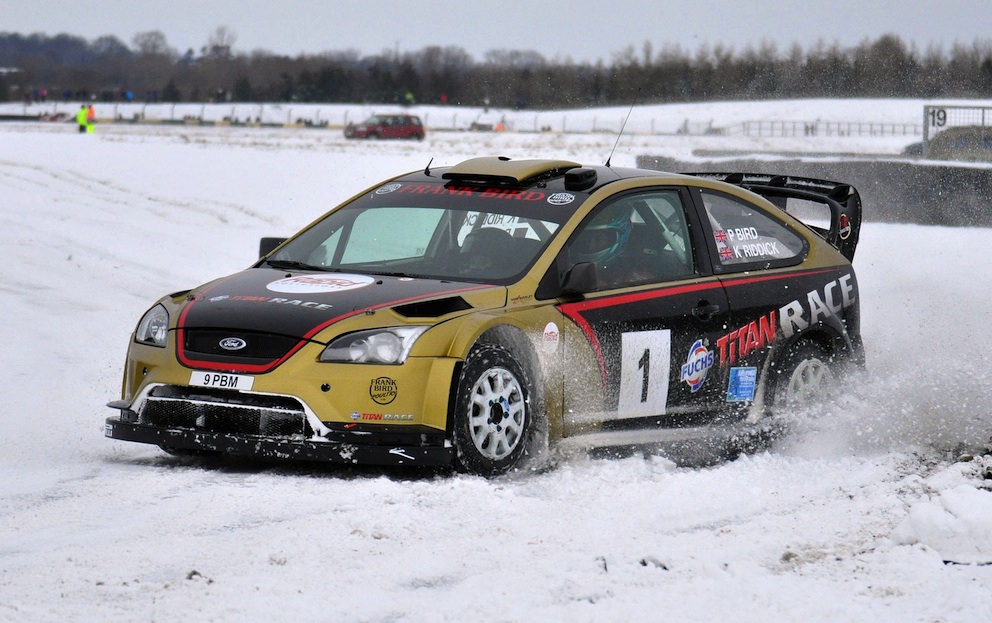 Cumbrian rally driver Paul Bird's audacious bid to win the Autogas 2000 Jack Frost Stages Rally for a fifth successive time came to an unfortunate end when circumstances conspired against him on the Darlington and District Motor Club event at Croft Circuit.
With hard-packed ice and snow greeting competitors, the former National Rally Champion was seeded at number one and first on the road in the Fuchs Titan, Rapid Solicitors and Kick Energy-backed Frank Bird Poultry Ford Focus WRC07, but an incorrect choice of ice tyre saw Bird lose lots of time to effectively end his bid.
The Dom Buckley Motorsport team set to work to change the settings on the car and with more suitable tyres for the second stage, the MotoGP and BSB Superbike team boss was back at the sharp end with a top ten time around the Yorkshire race circuit.
Thinking about another herculean recovery drive akin to his one on the Legend Fires North West Stages Rally last year, Bird, from Langwathby near Penrith, was all set to make up the time loss but as the crew went to leave for SS3, Scottish co-driver, Kirsty Riddick, suffered a freak injury when she trapped her finger in the door as a crew member closed it.
Whilst Kirsty wanted to continue, Paul realised the injury was quite serious so immediately withdrew in order for her to receive medical attention.
Paul Bird: "Once again, we've had no luck and that's three rallies on the trot I've not got to the finish. I made a wrong tyre choice on the first stage so that was my fault but we were game to have a go and make up as much time as possible on the remainder of the rally like we had to in Blackpool last year."
"But just as we were about to leave for SS3, Kirsty reached up to adjust something and someone accidentally closed the door which trapped her finger between the door and the roll cage. Shes a tough one, though, and she wanted to continue but I saw it wasn't good so I pulled rank on her and sent her off to get it checked out. We'll try again in Blackpool next month and hope our luck changes for the better soon."