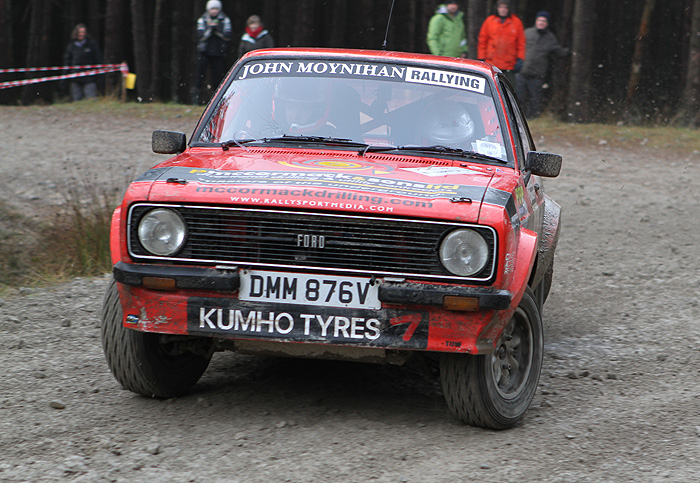 Marty McCormack reckons he will have a big fight on his hands in the second round of the West Wales Rally Spares R.A.C. Rally Championship, the SG Petch Tour of Hamsterley (Sunday 28 April).
McCormack will go up against Steve Bannister and Nick Elliott and a gaggle of other very quick drivers at the head of the historic field. With a total historic entry of 65 cars, it is one of the best fields ever seen in the north of England and the Irish ace says it is going to be quite a day of rallying.
"I'm under no illusions about how tough it will be," said McCormack. "I've only done one stage in Hamsterley on the Roger Albert Clark Rally and it is going to be a tough day of rallying in there. It is going to be very competitive."
The big talking point of the rally will be the continuation of the fabulous contest between the Ford Escort Mk2s of McCormack and Bannister from last year's Roger Albert Clark Rally. However, Nick Elliott will head north as the current championship leaders after a thrilling victory over McCormack on the season-opening Mid Wales Stages.
However, McCormack says it would be a mistake to see this as only a three-way contest. "If the notes work well we should be in with a chance, but you don't know who is going to pop out of the woodwork to challenge."
Although Bannister has more experience in the region, he is far from a Hamsterley expert. Meanwhile, McCormack and Elliott have only tackled the forest complex in the dark during the Roger Albert Clark Rally, so there is every chance of some surprises turning up.
The Tour of Hamsterley is organised by Stockton & District Motor Club in association with Teesside Motor Sport Group. More details at: www.tourofhamsterley.co.uk
Subscribe by Email
Sign up to receive our newsletter by email.
Like us on Facebook