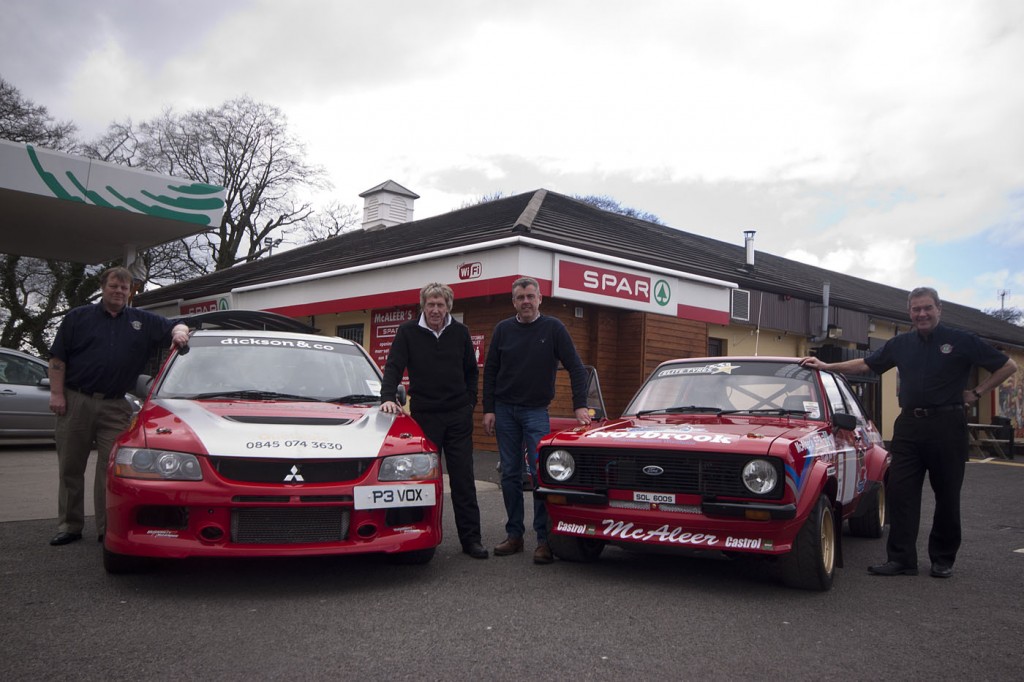 Bank Holiday Monday 6th May is THE DAY and St Angelo Airport is THE PLACE to be to see some spectacular rally action. This rally always bring out a host of 'quick locals' eager to battle it out on the tar at St Angelo Airport. Some rally crews will be keen to get to grips with the St Angelo course this Bank Holiday Monday as this is also the venue for UAC's Spectator Stage on the forthcoming 'Ulster Rally' on August 23/24.
Enniskillen Motor Club are gearing up for over 100 rally cars to once again roar around the airfield near Enniskillen over 6 Stages and almost 15 miles. This year the entry list is capped at 120 cars and the Motor Club are hoping for better weather than last year!
Clerk of the Course, Ron Neely, has stated, 'Rally fans are keen to see if Marc Johnson, again co-driven by fiancee, Lynn Forde, can repeat his sensational win in the wet last year. An in-form Jonny Leonard with mum Geraldine in 'the Hot Seat' in his Evo will surely be pushing for the win. It promises to be a terrific day's rallying'.
The young Ballinamalllard man will again wheel out the Evo which proved so successful for him on the rain-soaked airfield in 2012. Also doing his best to show Marc that he won't have it all his own way will be Dad Raymond, in his immaculately prepared Appendix 'K' Mk II Escort BDG, with other son Simon as Co-Driver.
The Mk II Escort afficiandos will be pleased to see and hear that the Campbells, Damian and Brendan, Fabian McAleer [sponsor], Andrew Bustard, Bryce Hetherington, Michael McGowan, Jim Henry plus Allard Beattie making a welcome return in his Mk II, will be among some 40-50 Escorts both Mk I and II all out vying for fastest Escort of the day!
Interestingly, also making a come-back is Neil McGahey, with James McGovern in the Co-Driver's seat for once, in his Mk V Escort RS 2000, a front wheel drive Escort for a change!
Marc McGowan will be another son trying his best to compete with Dad's Escort as he steers his Talbot Sunbeam over the smooth but treacherously slippy when wet tarmac at St Angelo, while Dad, Michael brings out his very 'tasty' Mk II Escort 'Pinto'.
Another family having a 'competing day out' are the McSheas, with Lauren co-driving for dad Paul in the glorious-sounding V6 rear-wheel drive [RWD] Ford Orion. Giving Marc McGowan a run for his money in the 1600cc Class will be Mark Thompson from Kesh in his
Toyota Corolla RWD.
A great variety of cars to keep all shades of spectator happy is guaranteed. Declan McKeown – BMW M3, Ed Muldoon – Honda Civic R3 and Ian Duff – Proton Compact and Seamus Gallagher in a Toyota Corolla RWD will all surely thrill the crowds.
The four-wheel drive [FWD] brigade have Jonny Leonard – Evo 6, fresh from his recent phenomenal 2nd Overall at Bishopscourt in the NI Rally Championship who will surely give Johnson a run for his money! Other Evo stalwarts include Brendan O'Hagan, Derrick
Jobb, Darren and Robert McKelvey as well as Joe Gallagher.
Subaru Imprezas are also plentiful with Anthony and Darren McGuinness both Subaru mounted, as well as Nigel Hodgins and Caroline Smith from Enniskillen also in an Impreza; all keen to mount a real challenge in the FWD Classes.
Clerk of the Course, the very experienced Ron Neely, with his EMC team has again put together an exciting and challenging course for the competitors and yet will provide safe and thrilling spectating for the public.
Meanwhile, entries are flowing in with over 60 crews signed up already.
The action will begin at 9.30am. With free car parking across the road from the airfield and adult admission at just £8 with children under 12 free and a family deal consisting of Mum, Dad plus two teenagers costing just £20, this has to be super value for money
for a family day out.
The finish venue this year is the magnificent Ballinamallard United FC Clubhouse where rally fans of the late, great Bertie Fisher, can enjoy seeing some of Bertie's rallying trophies, plus those of his son Mark, as well other rallying memorabilia celebrating
Bertie's rallying achievements.
See EMC on facebook and on our website www.enniskillenmotorclub.co.uk to keep up with entries, event regulations, entry forms, news and developments, etc.
Enniskillen Motor Club will be in The Diamond in Enniskillen town centre this Saturday 27th April from 9am – 5pm, so come along for a chat and find out more about our exciting May Day event.
This year EMC has again chosen Horizon West, NI Children's Hospice in Killadeas, as their charity to support during the McAleer's Spar May Day Stages Rally. Gladys O' Callaghan and the local Fermanagh support group will be in attendance on the day of the event,
Monday 6th May.