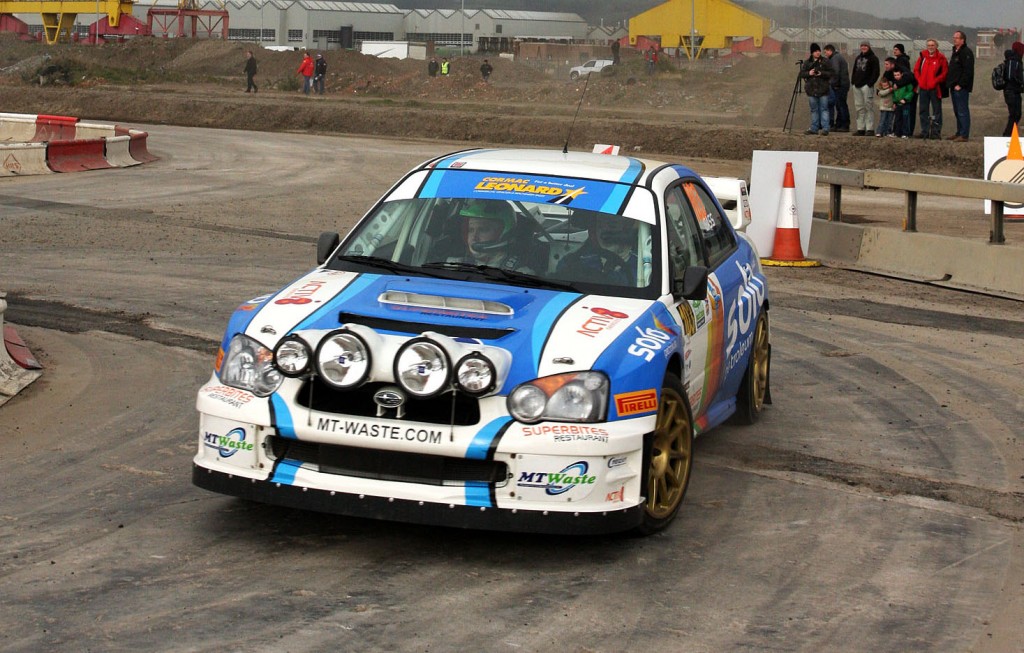 Darren Gass and Enda Sherry head an impressive entry for this year's Triton Showers Easter Stages Rally, round two of the Irish Tarmac Championship and round three of the Carryduff Forklift MSA Northern Ireland Rally Championship.
They will be joined by the likes of Derek McGarrity, Declan Boyle, Garry Jennings, Kenny McKinstry, Donagh Kelly and Kevin Barrett, as well as a host of leading Group N and two-wheel-drive crews.
The event takes place on Saturday 30 March and will be based at the Millbrook Lodge Hotel, Ballynahinch.
1 Darren Gass Enda Sherry Subaru Impreza S10 6
2 Derek McGarrity James McKee Subaru Impreza S14 6
3 Declan Boyle Brian Boyle Subaru Impreza S12B WRC 6
4 Garry Jennings Neil Doherty Subaru Impreza S12B 6
5 Kenny McKinstry Kenny Hull Subaru Impreza S14 WRC 6
6 Donagh Kelly Kevin Flanagan Subaru Impreza S11 WRC 6
7 Kevin Barrett Sean Mullally Subaru Impreza WRC 6
8 Alan Ring Adrian Deasy Mitsubishi 4
9 Josh Moffett John Rowan Mitsubishi Evo 9 4
10 Sam Moffett James O'Reilly Mitsubishi Evo 9 4
11 Phillip Morrow Jonny Hart Mitsubishi Evo 9 4
12 Peadar Hurson Damian Connolly Ford Escort WRC 6A
14 Jonny Leonard Niall Burns Mitsubishi Evo 6A
15 Camillus Bradley Crawford Henderson Ford Escort Mk II 12
16 Fergus O'Meara TBA Ford Escort Mk II 12
17 Adrian Hetherington Gary Nolan Ford Escort Mk II 12
18 George Robinson Tommy Speers Mitsubishi Evo 9 13
19 Wesley Patterson Martin McGarrity Ford Escort RS1800 K
20 Stuart Biggerstaff Anthony Nestor Subaru Impreza S9 6
21 James Laverty Francis Regan Subaru Impreza 4
22 Eugene Meegan TBA Mitsubushi 4
23 Stephen Wright Susanne Wright Mitsubishi Evo 9 4
24 Trevor Ferguson David McElroy Subaru Impreza N12 4
25 Robert Woodside Dean Beckett Subaru Impreza WRC 6
26 Kieron Graffin Paddy Robinson Mitsubishi Evo 9 4
27 Ray Brammer Damien Fleming Subaru 6A
28 David Armstrong Paul Mulholland Ford Escort Mk II 12
29 Willie Mavitty TBA Mitsubishi Evo 9 4
30 Fintan McGrady Mark Hanna Ford Escort Mk II 12
31 Keith White Damien McCabe Ford Escort Mk II 12
32 Rory Byrne James Byrne Mitsbushi Evo X R4 4
33 Alastair Cochrane Gary McElhinney Ford Escort Mk II 11
34 Robin Phillips Laura Phillips Mitsubishi Evo 9 4
35 Simon Woodside Allan Harryman BMW M3 12
36 Paddy McVeigh Stephen O'Hanlon Subaru S10 WRC 6
37 Paul Barrett Declan Tumilty Subaru N12 4
38 Kyle Orr TBA Mitsubishi Evo 4
39 Ian Millar Ronan O'Neill TBA K
40 Raymond Johnston David Johnston Ford Escort RS 1800 K
41 Alan Atcheson John McGrath Ford Escort MK II 11
42 Enda McNulty Paul Sheridan Ford Escort Mk II 11
43 Paul Killen Enda Kennedy Ford Escort Mk II 10
44 Geoff McMahon Rob Graham Mitsubishi Evo 9 4
45 Patrick McHugh Pauric O'Donnell Ford Escort Mk II 11
46 Liam Egan Raymond Coppinger Toyota Corolla WRC 6A
47 Steve Wood Johnny Baird Citroen C2R2 Max 2
48 Paul Manton Paddy McCrudden Citroen C2R2 Max 2
49 Stephen Greaney David Mannion Citroen C2R2 Max 2
50 Barry Greer Damien Duffin Ford Fiesta R2 2
51 Darragh Kelly Gerry Hughes Ford Fiesta ST 1
52 James Wylie Johnny Charlesson Ford Escort Mk II 10
53 Noel O'Sullivan Nicholas Burke Ford Escort Mk II 7
54 Paddy Kiernan James McCarville Ford Escort Mk II 11
55 Stephen McFerran Christopher McFerran Ford Escort Mk II 10
56 JT Warnock Andy Hayes Ford Escort Mk II 10
57 Andy Johnson TBA Vauxhall Chevette HS D5
58 Stanley Orr Brian Cairns Ford Escort Mk II C3
59 John Devlin Gavin Devlin Talbot Sunbeam 11
60 Jay Colville Alistair Wyllie Ford Escort Mk II 12
61 Raymond Doyle Marc Nugent Ford Escort G3 9
62 David Crossen Pam Irwin Ford Escort 11
63 Martin Laverty TBA Mitsubishi Evo 8 4
64 William Morgan Joe Law Ford Escort 12
65 Robert Erwin Jimmy Graham Toyota Corolla 9
66 Ryan Bradley Aaron Mawhinney Ford Escort Mk II 9
67 Nigel Simpson Michael Gilmore Peugeot 106 9
68 Stanley McKeown Mervyn Hawthorne Toyota Corolla 9
69 Graham Patterson Keith Hall Toyota Corolla 9
70 Fabian McAleer Steven Monaghan Ford Escort Mk II 11
71 Ashley Dickson TBA Mitsubishi Evo 9 4
72 Andrew McCormick Chris McSherry Vauxhall Chevette 11
73 Mark Greer Brian Todd Ford Escort Mk II 10
74 Niall Donnelly Eamon Gallagher Ford Escort 9
75 Philip Hamilton Derek Stride Citroen C2 9
76 Ian Duff Ian Hull Proton Compact 9
77 Jonny Morrow Thomas Wedlock Toyota Corolla 9
78 Brian Black Ian Crozier Toyota Starlet 7
79 Robert Bunting Graeme Stewart Subaru Impreza 4
80 Andrew Bustard David Young Ford Escort Mk II 10
81 Joe McAteer William Kehoe Ford Escort Mk II 10
82 Simon Devlin Jonathan Treanor Toyota Corolla 9
83 Mervyn Johnston Richard Hyland Austin Mini Cooper B2
84 Niall Creighton Gregory Roberts Ford lotus Cortina Mk I B3
85 Harry Brown Martin McGrath Hillman Avenger C2
86 William Todd Aaron Johnston Morris Mini Cooper S B2
87 Ivan Marsden Neill Finlay Mitsubishi Evo 6 6A
88 Mark McDonald Robin Pitts Ford Escort G3 11
89 Bill Armstrong Chris Hazley Ford Escort Mk II 10
90 James Boyd TBA Ford Escort 12
91 Declan Jackson J Barry McCarney Ford Escort Mk II D3
92 Aidan O'Connor Ian Regan Ford Escort Mk I C3
93 Christian Cochrane Conor Lavery Ford Escort 11
94 Robert Haslett Gavin Larmour Vauxhall Astra 11
95 Andrew Patterson TBA Ford Escort G3 11
96 Gareth Feenan Elaine Ni She Ford Escort 11
97 David Walsh Martin Lynch Ford Escort Mk II 10
98 Paddy Milligan Kevin Murphy Opel Manta 11
99 Richard Somerville John Nicholl Ford Escort 11
100 Ciaran McKay Kevin Malone Ford Escort Mk II 10
101 Ian Green Amanda Green Peugeot 205 GTI 10
102 Sean McNabb James McNabb Vauxhall Chevette 11
103 Gerry Faloona Sean Treacy Vauxhall Astra GSI 11
104 John Gordon Robby Knox Ford Escort Mk II 10
105 Mark Robinson Brian Galbraith Talbot Sunbeam 8
106 Ian Dickson TBA Vauxhall Corsa 8
107 D D Kane David Kane Talbot Sunbeam Ti 8
108 Chris Byers Joan Gilmore Ford Escort Mk II 10
109 Stephen Kelly Mark Curran Talbot Sunbeam Ti D2
110 Noel McMullan Alan Borrows Ford Escort Mk II 10
111 Jordan Hone Paul Hone Nissan Micra 7
112 William Hall Alastair Hall Ford Escort Mk II D3
113 Brian Vance Ciaran McNamara Toyota Corolla 9
114 Brian Little Caroline McGuinness Ford Escort G3 8