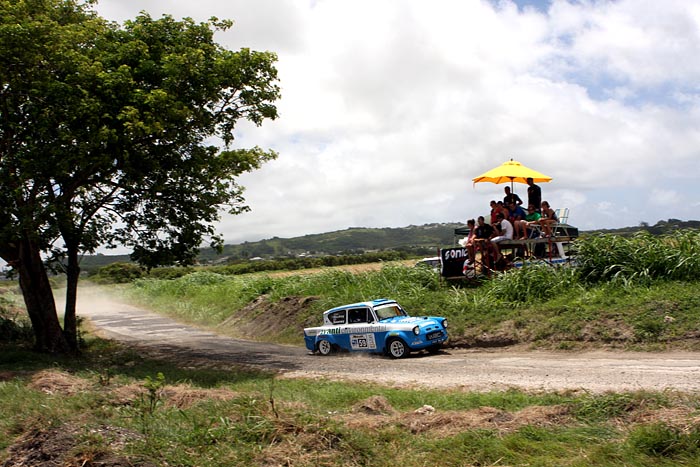 Island rally fans who have been thrilled by the flamboyant antics of Scotland's Allan Mackay and his Ford Anglia WRC for the past three years will have twice the fun at Sol Rally Barbados 2013 (June 1/2), as his son Euan is entered to drive for the first time in what is dubbed the 'Anglia JWRC'.
Despite a combined age of more than 100, the two Anglia 105Es are among the most lively on the rally scene and promise more than enough sideways action to keep fans entertained.
Euan says: "After my father competed in Barbados the first time, he came home and wouldn't shut up about it, so I had to go see what the fuss was about!"
Mackay Snr won the hearts of the crowd on his first visit to the Caribbean's biggest annual motor sport International in 2010, despite retiring with bent steering.
The former Scottish Tarmac Champion finished 29th overall in 2011, fourth in SuperModified 10, then 49th in Sol RB12, slipping a few places down the order in SM10. Once again, his co-driver will be Ireland's 'Mad Mo' Downey.
Owner of the Anglia WRC – the initials stand for Well-Run Car – since he was 14 years old, Allan gave another as a shell to his son one birthday.
Euan explains: "I started navigating in the Anglia WRC for my Dad when I was 16, but soon got bored and wanted at the controls. I started doing sprints in the WRC, then got a Vauxhall Nova before me and my friends built my own Anglia and a Peugeot 106 Cup car from scratch."
The Peugeot, called 'Snowball', was driven to many class wins in Scotland, including on a single-venue event last year.
Euan says: "One of my major achievements was doing the Crail Summer Stages two days after getting back from Barbados with my friend Rory Fraser, who had never navigated before – we were 11th overall and won our class."
Sadly, 'Snowball' became a fireball a few months later, when Mackay rolled end-over-end on the last stage of the Mull Rally in October; the car burned out completely.
Like the Anglia WRC, Euan's car is run by Mark Greer Motorsport in Ireland. Originally built as a Clubman spec car, with a 1600cc crossflow engine, it has been steadily developed, as Euan explains:
"It was always getting the hand-me-down parts from the WRC, until its current spec, which is now identical. The Duratec engine and the Quaife 60G gearbox are the latest mods, fitted during the off-season."
Mackay Jnr's co-driver will be fellow Scot Calum Macleod. He is happy on either side of the car, although his last experience driving, also on Mull, was less than successful:
"I was competing there for the first time. While lying 40th overall, I slightly misjudged a wet corner on the sea front and ended up rolling into the sea in the middle of the night."