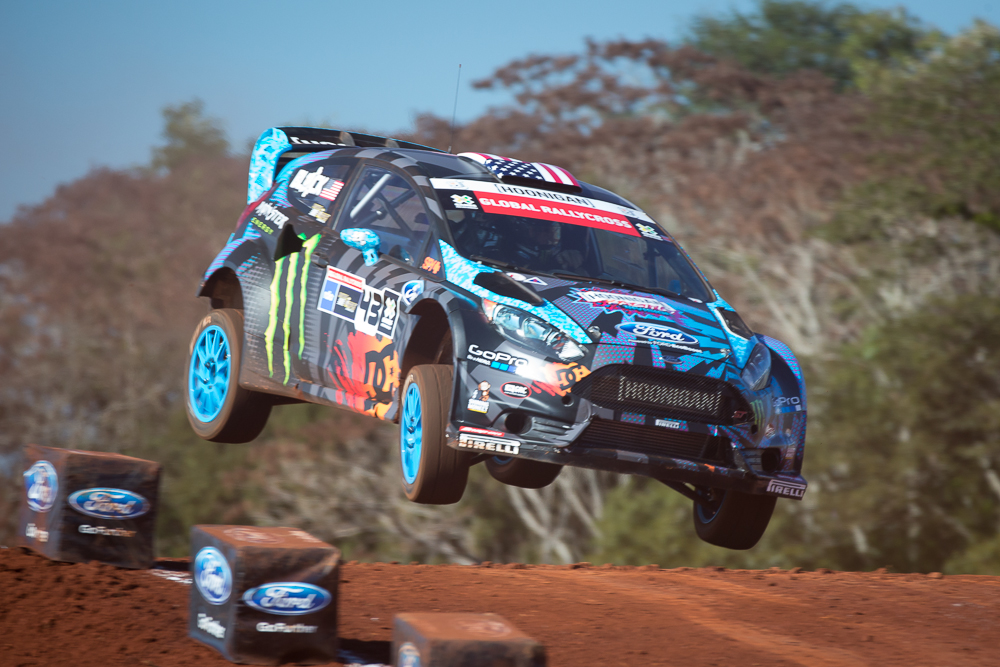 Heading into the first of four Global X Games this year, Hoonigan Racing Division's Ken Block hit X Games Brazil in his brand-new Ford Fiesta ST RX43 RallyCross with one goal: add to the collection of X Games medals on his wall at home. Unfortunately, that dream came to an abrupt end 100 feet into the RallyCross final when Block was hit from behind and into fellow Ford driver Tanner Foust, causing suspension damage to both drivers cars and forcing them out of the race.
The race-ending hit and sustained damage were the icing on the cake to an already long and adverse pre-race buildup. Upon arriving to Foz for RallyCross practice, drivers and teams were met with a track that wasn't properly prepared for competition. A series of off-camber turns with zero compensation for the fact that competitors were forced to run on grooved slicks, extremely loose surface materials and copious amounts of dust all combined to make a racecourse that many of the drivers considered extremely subpar.
"I came to this event really excited about competing and running my new Fiesta for the first time in competition," said Block. "But the event ended up being a real disappointment. Myself, Travis [Pastrana] and Tanner [Foust] all got taken out in Turn 1 of the final, which sucks. Combine that with the fact that the track here in Foz is the absolute worst track I've ever raced on and it's just been a tough weekend here in Brazil. I'm passionate about racing, especially in the X Games, and unfortunately this track didn't maintain the level of quality that previous X Games rally courses had. I'm hopeful that it gets corrected and improved upon for our next stop in Barcelona."
Despite the hardships of the un-penalized hit, race-ending mechanical damage and dismal course design, Block came away from the race weekend with one highlight: putting down the fastest lap time prior to qualifying on Saturday morning.
With X Games Brazil behind him, Block now shifts focus towards his next competitive event, which is Rally America's Oregon Trail Rally, May 3-5 in Hillsboro, Oregon.