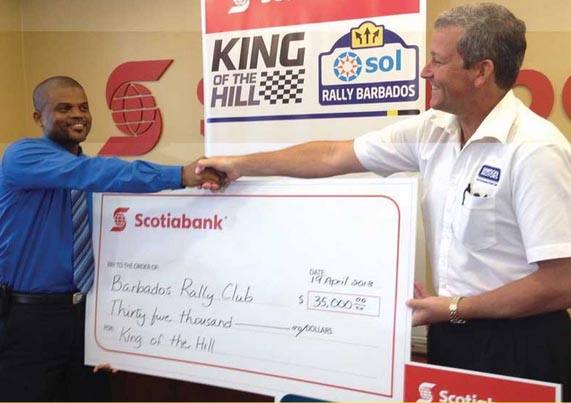 Scotiabank is the new sole title sponsor of King of the Hill, the Barbados Rally Club's (BRC) final key event run in association with Sol Rally Barbados 2013, the Caribbean's biggest annual motor sport International. The deal was confirmed during a press briefing this morning (Friday, April 19) at the CGI Building in Warrens, St Michael.
Scheduled for Sunday, May 26, the weekend before Sol RB13, Scotiabank King of the Hill plays a vital role in the build-up to Sol RB13. The results provide the basis for seeding the entry, as well as the event itself offering overseas competitors, many of them first-timers, an opportunity to drive at competition speed on island tarmac. The venue will be confirmed nearer the time.
Victor Boyce, Director of Scotiabank's Corporate and Commercial Business Unit, said: "We're here this morning to announce a great partnership, between Barbadians' favourite sport – rallying – and Barbadians' favourite bank, Scotiabank! Today's presentation marks the continuation of a relationship, which actually started last year when we came on board as a joint sponsor. We are really pleased and excited to increase our role and bring to you Scotiabank King of the Hill.
"There were several factors that drew us to making this investment in rallying. Most important was the connection with the community because, as I'm sure you all know, Scotiabank is very involved in that respect, so supporting rallying through King of the Hill was a natural fit for us. Rallying is a real community event – old and young, male and female and people from all classes of society come out to enjoy themselves. It is free and accessible to thousands of people . . . and this shows in the huge numbers that pack their baskets and coolers and line the stages every year to take in the action.
"It is also significant to us that Sol Rally Barbados pumps nearly Bds $4million into the economy and accounts for approaching 4,000 visitor nights each year. It is indeed a pleasure for us to be associated with an event that is a key driver of the Barbadian economy and helps maintain jobs and bring in foreign exchange."
After receiving a giant sponsorship cheque, BRC Chairman Mark Hamilton said: "We're really pleased that Scotiabank enjoyed the experience last year enough to want to come back and play a bigger role going forward as title sponsor. It is vital for the future of motor sport that we can attract sponsors from outside the automotive industry, and I am proud that the Barbados Rally Club is delivering a quality product that has attracted a blue chip sponsor such as Scotiabank . . . and a sponsor that clearly believes it is getting a return on its investment."
Scotiabank is the longest-standing current sponsor of cricket in the region, having supported Kiddy Cricket for 14 years, an investment that has borne fruit as Kiddy Cricket alumni such as Kraigg Brathwaite and Kemar Roach have gone on to success with the Barbados and West Indies senior teams. Specific to Barbados, Scotiabank has been title sponsor of the Junior Calypso Monarch contest for many years.
Since it was first run in 2008, King of the Hill has been won by only three drivers: first, local aces Paul Bourne and Roger Skeete swapped back and forth, Bourne in 2008 & '10, Skeete in '09 & '11, in the second year Skeete doubling up by winning Sol RB11. Last year, England's Paul Bird repeated the double.