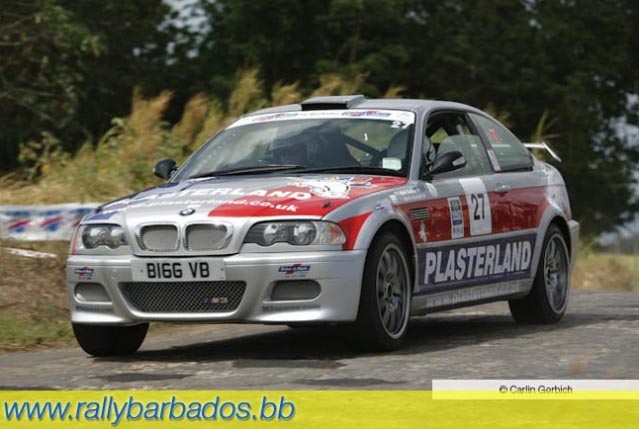 Britain's Martin Stockdale has confirmed that he will once again compete in the Caribbean's biggest annual motor sport International – Sol Rally Barbados – when he makes his 13th consecutive appearance in the Barbados Rally Club's (BRC) premier event over the weekend of June 1/2 this year.
Fresh from celebrating daughter Laura-Jo's 21st birthday in the British Midlands last weekend, surrounded by family and friends, including many made in Barbados since his first visit in 2001, when Laura-Jo wasn't even in her teens, Stockdale was bubbling over with enthusiasm for his forthcoming trip when he talked to www.rallybarbados.net.
Stockdale said: "We had a fantastic time last weekend and it was great to see so many of the friends we have met through Rally Barbados. Glenis and I can't imagine not coming back to visit our extended family on the island each year, have a few beers . . . and take part in some great motor sport. What more could you ask for?"
The guest list for last weekend's gathering included many names familiar in the island such as Fred 'the Builder' Davidson and wife Carole, Kenny Hall with wife Fiona and son Alex, Kevin and Paula Procter, Paul and Ali Rees and Hall's co-driver, Holland's Fenny Wesselink; indeed, one party-goer described it as "just like being at Rally Barbados".
Nicknamed 'Mad-dale' by island fans for his flamboyant handling of a string of BMWs, Stockdale – three times a class-winner over the years – will again drive the Divi Southwinds Beach Resort/Drive-a-Matic Car Rentals/Quarry Motors BMW M3 Compact, this time in the new SuperModified 12 class. His regular co-driver Mark Swallow can't make it this year, but Gary Miller confirmed just a few days ago that he is available for his sixth trip to compete in Barbados, his second with Stockdale.
After Sol RB12, Stockdale enjoyed mixed fortunes on UK events, the highlight a class win, by more than two minutes, and ninth overall on the Lynn Charity Stages after nearly 100 miles of slippery stages on the former bomber airfield of RAF Sculthorpe in Norfolk in November. On the down side, but for a three-minute penalty imposed for an early error, he would have finished third overall on the Lincoln Green Stages in September.