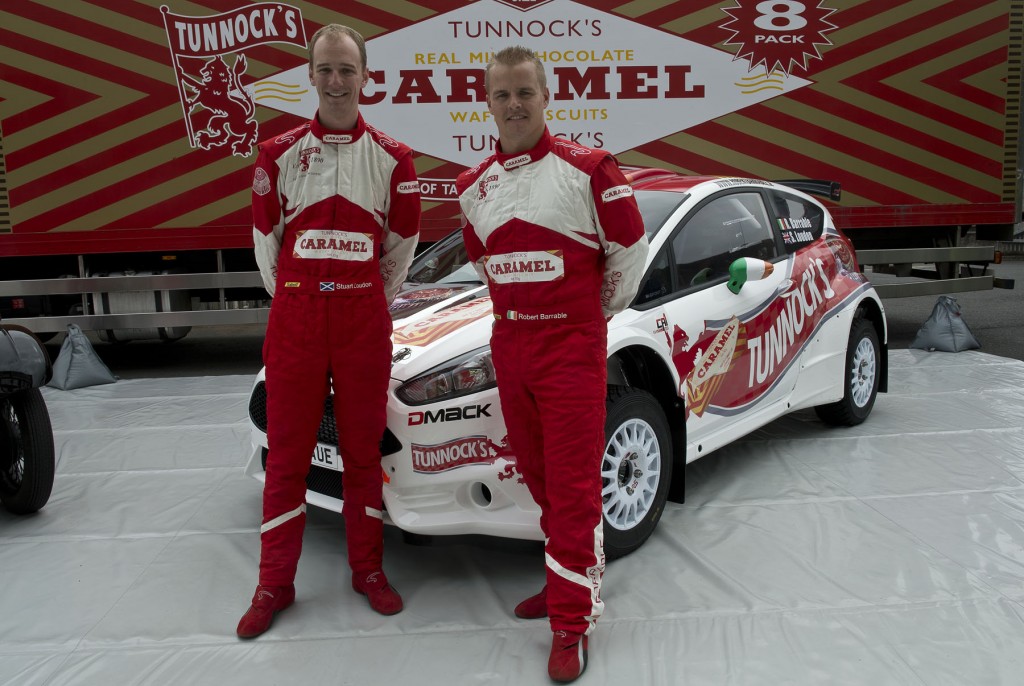 The Tunnock's World Rally Team has been officially launched at the famous teacake company's bakery in Uddingston, Scotland, where it was announced that Robert Barrable will contest five of the remaining six rounds of the 2013 FIA World Rally Championship in a new Ford Fiesta R5.
Stuart Loudon, the great, great grandson of the company's founder, Mr. Thomas Tunnock, will co-drive.
Tunnock's was established in 1890 and has a long history in rallying. Its Managing Director, Mr. Boyd Tunnock CBE (Stuart's grandfather), competed as a rally driver in the late 1950s and early '60s – most notably in MGs, winning the California Trophy three times. Tunnock's Sales Manager, Mr. Fergus Loudon, a former leading Scottish Rally Championship co-driver and West of Scotland champion (in 1990 with John Gray in a Sierra Cosworth), is Stuart's father.
Tunnock's bakes 10 million biscuits a week, of which half are its famous Caramel Wafer. It employs 520 staff and exports to 33 countries.
The wraps came off the Tunnock's World Rally Team Fiesta R5 at the company's factory in Lanarkshire – prior to the car heading to Rally Finland (1-3 August), Rally Deutschland (22-25 August), Rally France (3-6 September), Rally Spain (24-27 September) and Wales Rally GB (13-17 November).
Those events will see the completion of a six-round 2013 programme, following Robert's WRC debut on Rally Portugal in April – in which he finished an excellent 2nd in WRC-2 and 11th overall, driving a Tunnock's Ford Fiesta S2000.
The Tunnock's World Rally Team Fiesta R5 has been developed by M-Sport and will be maintained and run on events by Carlisle-based rally preparation experts CA1 Sport.
Mr. Boyd Tunnock CBE: "Here we have a rally team that aspires to win, and we've got a team at Tunnock's that is winning, so the two go together very well! It's all about having the best equipment, which we have in the factory and in the Fiesta R5, and the best people, which we also have in Uddingston and in the rally car. It's a winning combination, so I'm sure it will be a great success.
Mr. Fergus Loudon: "Europe is a very important market and a nut we haven't been able to crack yet, so this rally project will give us great exposure in countries where we don't currently sell to. The first rally in Finland is a classic example. Scandinavia is full of people who, in our opinion, should be buying Caramel Wafers! There are strong commercial reasons why we are involved in rallying, but it's also nice to be able to help Robert and Stuart and give them a helping hand in their motorsport careers."
Robert Barrable: "It's a great privilege and a wonderful opportunity to venture into a new motorsport partnership with such a long-established and recognised company like Tunnock's. It's their fantastic support that enables Stuart and I to contest six rounds of this year's FIA World Rally Championship, and we very much thank them for that. We are working very closely together to make sure their support is rewarded, and the Tunnock's World Rally Team is a huge success. It's going to be one of the most popular sponsorship deals in the WRC – Tunnock's teacakes are exceptionally nice and we'll be bringing a few boxes of them to give out to fans wherever we go!"
Stuart Loudon: "The Tunnock's World Rally Team Fiesta R5 looks fantastic and it's great that my father and grandfather are so heavily involved in this new rally project. They both seem delighted with the livery on the car and the WRC programme of events, and if they're delighted, then I'm delighted! Tunnock's is a great sponsor to have – not only because it's a long-established Scottish and a great British company, but because when somebody asks you what it actually is, you can give them a Caramel Wafer for them to try!"
Tunnock's World Rally Team 2013 programme:
Rally of Portugal….11th overall / 2nd WRC-2
Rally Finland….01-03 August
Rally Deutschland….22-25 August
Rally France….03-06 September
Rally Spain….24-27 September
Wales Rally of GB….13-17 November